Triage Equipment and UK National Triage E-Learning
Smart D-Net Online Training programme provides an online course for first responders, NHS staff and paramedics. This interactive program is ideal for individuals who want to increase their knowledge, training and preparedness in Multiple Casualty Incident response.
As well as teaching triage and being presented with a virtual incident with casualties to triage and treat. Smart D-Net will equip the student with the right skills to control, organisae and manage an major incident.
Once successfully completed you will received a certificate towards your Continual Professional Development.
To look at the TSG Smart D-Net training video click the link.
Smart D-Net has been created by TSG Associates who are the world leaders in providing equipment and training to EMS agencies all over the world. We have continued to develop the initial concept to create an intuitive, scalable, practical incident management system that allows rescuers to command and control all types of emergency, and maximise the number of survivors.
Today, the SMART Incident Command System is used by British military and civilian services, is integrated into the New York State disaster preparedness plan, has been state mandated by Connecticut, Massachusetts, Illinois and North Carolina and is standard issue in high-risk regions world-wide.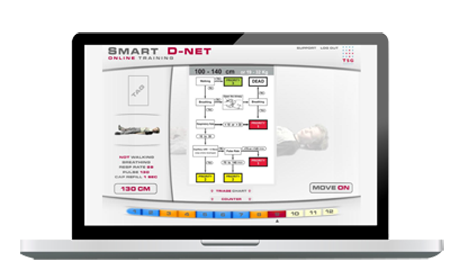 MCI BAG™ COMPLETE GRAB BAG TO RESPOND RAPIDLY WITH ALL THE RESOURCES REQUIRED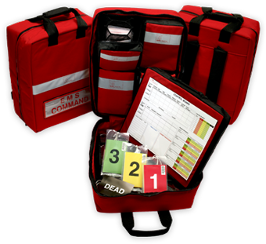 The SMART T.R.I. Pack™ allows you to perform rapid lifesaving interventions whilst conducting effective triage.
The SMART T.R.I. Pack™ has been designed around the equipment most frequently selected to address immediately life threatening conditions typical at a multiple casualty incident.
The SMART T.R.I. Pack™ will help you ensure you have the right equipment in the right place at the right time. Guided by customer feedback and and data from recent incidents, we have designed the SMART T.R.I. Pack™ to be a valuable resource to the responder, providing them with space for medical equipment such as trauma dressings, airways and chest seals, without the need to take a complete trauma bag into the scene.This allows the delivery of Rapid Life Saving interventions at point of wounding.
Order from us £629.95 plus VAT
SMART T.R.I PACK™ RAPID LIFESAVING INTERVENTIONS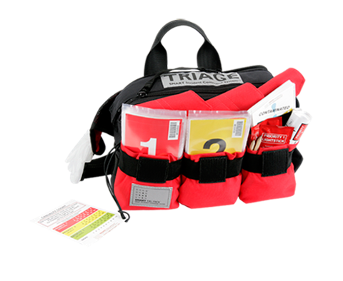 Detachable external incident control boards prompt ordered reporting and assist with information at handover which speeds up decision making.
The incident control boards are laid out logically and are compliant enough to be adapted to your own incident response. How to use The SMART Commander™ is sized to fit your arm, allowing you to move around the scene and providing you with a solid surface to write on.
The waterproof control boards can be written on with a sharpie marker, providing a durable record of actions on scene that can be cleaned post incident with alcohol based cleaner or wipes. Inside the SMART Commander™ are map and plan holders, allowing you to take your incident response plan to the scene.
The availability of relevant documents and plans provides the most effective way to direct resources. Storage pockets allow you to take vital equipment to the incident.
Additional Control Boards are available for specific situations.
Order from us £155.00 plus VAT
Triage Equipment Order Form