HMIMMS - Hospital Major Incident, Medical Management and Support: The practical approach in the hospital setting
Hospital MIMMS (HMIMMS) is the leading course for hospital staff responsible for planning, training and managing aspects of a major incident from a hospital perspective, with course objectives including:
The type and incidence of major incidents and therefore the need for proper response and management planning.
Understand and able to implement and follow the seven principles encapsulated in the CSCATTT approach to successfully managing a major incident.
Understand the need for major incident training—focusing on those aspects of the plan which do not occur in day-to-day practice, i.e., command, control, communication and triage.
Able to deliver the medical support needed for major incidents in the hospital setting using the concept of 'collapsible hierarchy'
Information for candidates
This HMIMMS education programme is available for anyone managing aspects of a major incident from a hospital perspective.
Continuous Professional Development
The College of Emergency Medicine has approved the course, awarding it 12 CPD points.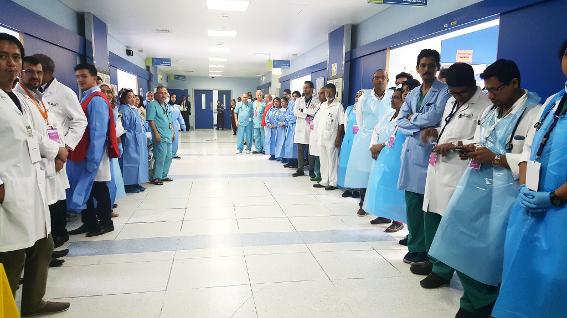 HMIMMS curriculum and key information
Overview
A two day face-to-face course open to anyone within the hospital, who is involved in managing a major incident.
Two day course with lectures, workshops and table top exercises.
Lectures
Welcome and introduction – incidents in context
Structured approach to the hospital response to major incidents
Planning for major incidents
MIMMS: The practical approach at the scene
Reception phase
Definitive care phase
Recovery
Workshops
Communication
Triage
Specialist Services regional
response
Public Health incidents
Protracted large geographical incidents
CBRN
Table top exercises
The incident, the approach at the scene and the impact on the hospital

Reception phase

Definitive care phase

Recovery
Assessment and certification
Assessment takes place on day two of the course. If you are successful, HMIMMS certification is valid for four years.
Recertification options
All recertifying candidates must undertake the course again ever four years.